If you're trying to work out what "gaslighting the woke cancel culture" means, you can stop now: it's just a bunch of words I threw together that sound as thought they ought to mean something but actually don't.
People have been complaining that political discourse has become increasingly meaningless ever since George Orwell wrote "Politics and the English Language"; in fact, I'm sure back in the Roman Republic, senators were complaining that the word had drifted away from its original meaning of res publica ("the public thingummy", which just goes to show that the original meanings aren't necessarily more precise). Words have a kind of half-life: gradually the meaning leaches out of them and they become milder versions of themselves, turn into semantically empty place-holders, or, like uranium turning to thorium, transform into something different, like "naughty" changing meaning from "poor" to "nihilistic" to "mischievous". Some words, particularly grammatical words like "the" and everyday objects like "house", have very long half-lives; political words, however, decay much more rapidly, and social media has accelerated this.
Gaslighting
"Gaslighting" is an example of a once-useful term that rapidly shed meaning as it became more generally used. It refers to the film noir classic, Gaslight, in which a man convinces his wife that she is going insane by dimming the house lights whenever he's away (his aim being to institutionalise her and steal her money). The catch is that this, along with the mysterious noises in the attic that he also arranges, does actually damage her mental health. Gaslighting thus originally referred, in the words of the AMA, to "manipulation so extreme as to induce mental illness or to justify commitment of the gaslighted person to a psychiatric institution."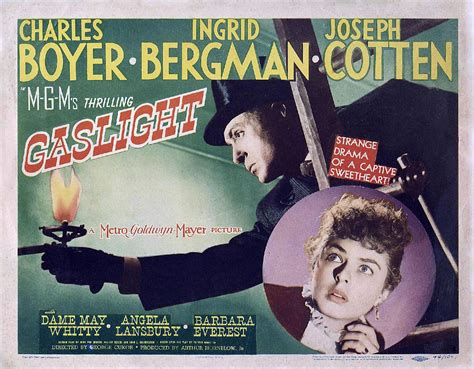 In the early 2010s, the word broke onto social media and morphed accordingly. It started to be used to refer to more general social propaganda designed to make oppressed groups doubt the reality of their oppression and attribute their distress to personal failings or even mental illness. Now this, I think, is a clever metaphorical extension of the term that actually makes it more useful. While few people actually try to get their family members incarcerated in mental hospitals, powerful people often try to convince the less fortunate that there is really nothing wrong, and if it doesn't look like that to them, they must be weak, lazy, or crazy. Unlike the Soviet Union, Western countries can't lock up dissidents in mental hospitals, but they can do their best to make out that people are unhappy because of their "mental health issues" rather than because, say, they are working long hours in poor conditions for wages that don't allow them to feed their children properly. It's like a twenty-first century take on the old idea of the feckless poor merged with the "hysterical woman" trope of early psychiatry and the post-war tendency to view any unusual behaviour as pathological.
Of course such a useful concept was bound to have a short half-life, and before long it was being applied to any kind of propaganda and even to sincere differences of opinion. Somebody who genuinely believes that capitalism is the best way to make everyone wealthy or that traditional families are ordained by God is not gaslighting you; they're arguing with you, and you would do well to argue back rather than accusing them of trying to make you doubt your soundness of mind. By the second half of the decade, the word was not only being used to describe propaganda for the status quo, it was being hurled at progressives who dared to say that things were not quite as awful as they looked. (Many on the left are stuck in the Christian/Marxist attitude that things have to get worse before they can get better, but that's something for another article.) For me the turning point was 2016, when I saw a tweet from someone who complained that a friend was gaslighting her by saying "It's going to be OK" when Trump got elected. This was not an attempt to convince the tweeter that everything was peachy and she was mentally ill if she didn't think so, but rather a clumsy attempt at reassurance that backfired. "Don't gaslight me!" is becoming a cypher for "Don't burst my bubble of gloom." And this points to a deeper, and probably insoluble problem, which is that we often don't know whether a problem lies in the world or within us (or both). Just as we shouldn't blame ourselves for the world's problems, we shouldn't warp our view of the world to fit our own problems.
Woke
Historical linguists like to observe the processes whereby good words go bad and bad words are rehabilitated; it's a kind of semantic criminology. I mentioned an example of the latter case, known as "melioration": when a Shakespearian character is described as "a naughty man", it means that he has no moral principles whatseover (the word comes from "naught", like "nihilistic" comes from "nihil", i.e. "nothing"), but now "naughty but nice" is a cliché. The former process, known as "pejoration" (think "pejoratory") can be seen with the word "woke".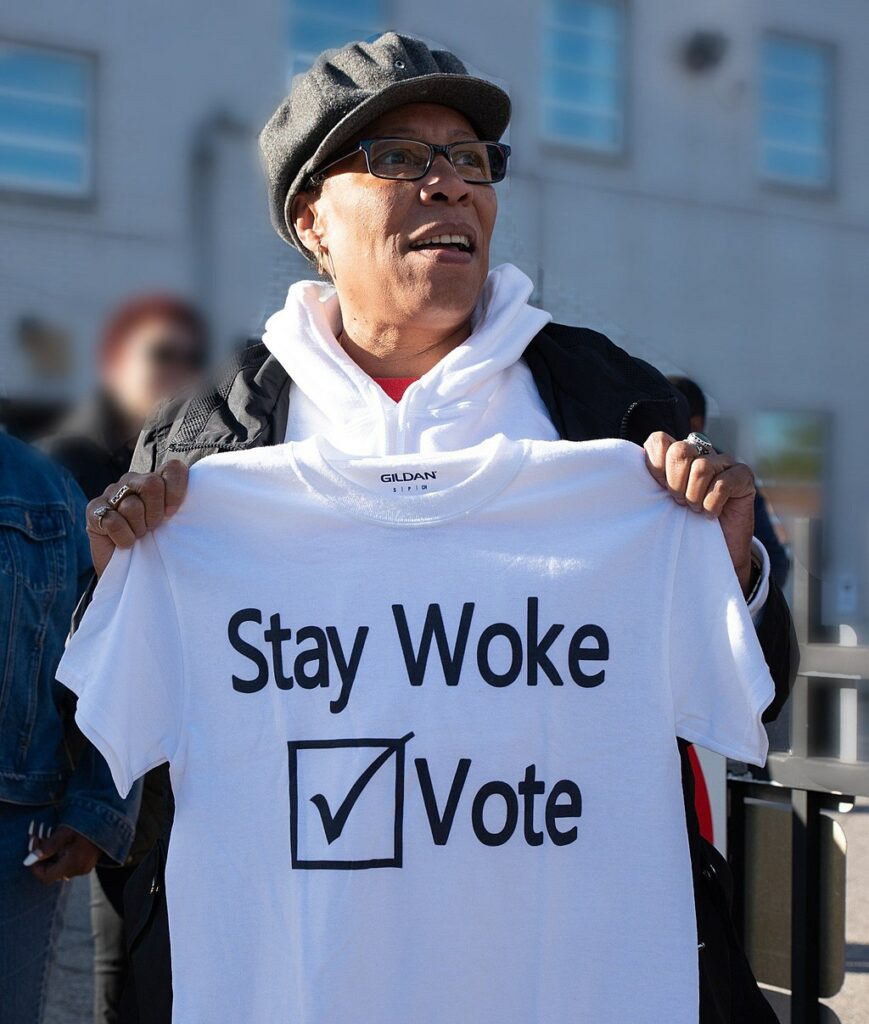 Waking up as a metaphor for becoming aware goes way back — think of the way "awakening" is used as a synonym for enlightenment, or of Bach's wonderful "Sleepers Awake" cantata, a setting of a hymn based on the parable of the ten virgins. In the nineteenth century it got more political; one of the many versions of the Internationale starts "Arise ye workers from your slumbers." And in the mid-twentieth century, "woke" was used by American trade unionists and civil rights activists to mean aware of oppression, and racism in particular.
So far, so good. But then it became used as a slur by the right and its semantic content just dribbled out onto the floor, in much the same way that the word "fascist" did in the 1960s. Now even people I know who aren't particularly right-wing are using "woke" (usually in scare quotes) to mean something like "politically correct" did a few years back. The difference is that although the term "politically correct" originated on the left, it was pretty much always used a joke — I suppose there may have been a few Stalinists who used it with a straight face back in the day, but it was mainly just us lefties poking fun at ourselves and each other. I guess conservatives didn'tget the joke.
The odd thing is that when people throw around words like "woke" or "politically correct", they often have no idea what they are talking about, but in spite of this they are often trying to grasp at something which is quite real. There is no "wokeness" or "wokism" in the sense that rabid right-wingers use the word (i.e., a huge conspiracy by feminists, cultural Marxists, transexuals and tofu-eaters to destroy Western civilisation), but there is a tendency among progressives to focus more on form than substance, and to enhance their own standing by catching others failing to observe those forms. Progressives don't do that because they're progressives; they do it because they are human, but it's still annoying, and we could do with a word for it. I rather liked Tim Ferriss's term "bigoteer", but it never took it off.
Cancel Culture
Back in the 1980s, I went to a meeting of the Leeds University Debating Society where the holocaust-denying historian David Irving had been invited to speak. Things were about to get ugly, with our generation's version of Antifa wanting to throw him out, and the Young Conservatives (who were a considerable force on campus then) wanting to throw the protestors out. Then the president of the Student Union came up with a clever idea. According to the constitution of the Debating Society, all members of the Student Union (i.e., all students) were members of the Debating Society, and therefore had the right to uninvite anyone that they had invited, so we did. And lo and behold, I became part of cancel culture, decades before the term arose.
Now you can argue the pros and cons of what we did to the poor little Hitler apologist (especially since no one knew quite what a Nazi he was then), but it's a debate that has been going on for a long time. If we're talking about the law, I go along with John Stuart Mill, who argued that no opinion should be suppressed except where it would lead to violence (and it is pretty clear that Nazi propaganda leads to violence, which is why Irving eventually wound up in an Austrian prison). In contrast, private organisations and companies can give or deny a platform to anyone they choose. There are, however, intermediate states like public institutions and oligopolies where things get muddy. Unlike some of my friends on the left, I do think there is a phenomenon that could reasonably be called "cancel culture", in which unpopular views are suppressed rather than debated and attempts are made to remove the people expressing them. When well-known figures on the left like Noam Chomsky and Margaret Attwood warn you, it's worth sitting up and paying attention even though you may not agree with everything they say. If someone insults or blocks me on social media for being, in their mind, a transphobic radical feminist or a misogynistic trans activist (both of which have happened), I just laugh, but when this happens in a university to someone who could lose their job as a result, it gets more serious. Related to the bigoteering mentioned earlier, there is a real problem with people making social and political capital out of accusing others of bigotry, and sometimes this has more serious consequences than people blocking each other on Instagram. (Note that this is not just a problem on the left — if you want to see real cancel culture in action, check out the House Unamerican Affairs Committee.)
So yes, "cancel culture" was briefly a useful term. But of course conservatives have to spoil everything, and in the blink of an eye, it became applied to anyone calling anyone out for anything. The idea that it is usually better to debate opposing views than suppress them has morphed into the idea that we are obliged to listen to people spouting abuse. The move to defend Donald Trump's "freedom of speech" (i.e., his Twitter account) is a case in point. The man incited a riot that led to deaths, which is not the same as soberly expressing a view that there may be a problem with the voting system. To return to John Stuart Mill: "An opinion that corn-dealers are starvers of the poor, or that private property is robbery, ought to be unmolested when simply circulated through the press, but may justly incur punishment when delivered orally to an excited mob assembled before the house of a corn-dealer."
---
So there you go, we've gaslit the woke cancel culture, or something like that. At different times and in different groups, the same words can mean different things, or nothing much at all. As Wittgenstein said, "Don't ask for the meaning; look for the use."